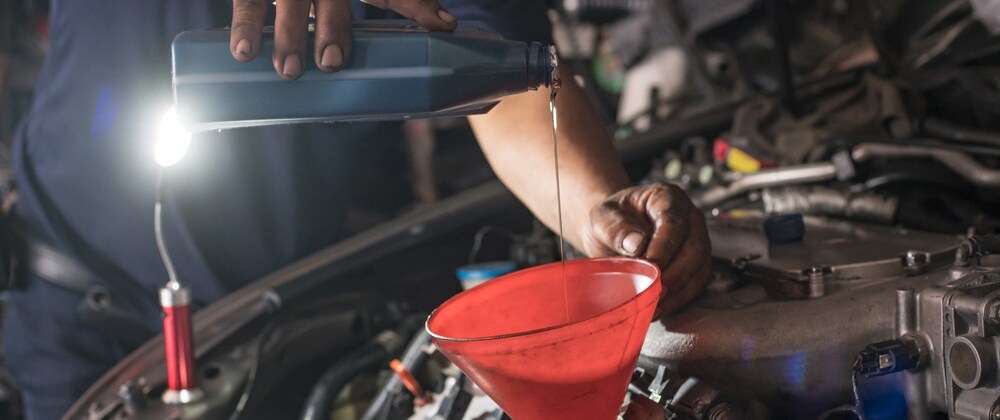 One of the numerous critical car maintenance items you need to check off regularly is the oil change. But just how often should you change your oil? Although experts previously recommended that drivers only go 3,000 miles before getting an oil change, with advancements in auto technology, newer cars can comfortably go anywhere from 5,000 to 7,500 miles, with some cars reaching up to 10,000 miles before needing an oil change! However, while these are trustworthy averages, you should also make a point to check your owner's manual to find out your vehicle's specific oil change interval. Learn more about oil change frequency with the experts at Elgin Hyundai below!
Oil Change Frequency Guidelines
Although we said that some cars can go up to 10,000 miles before needing an oil change, there are multiple factors that can lead to more frequent changes. If you use your vehicle in any of the following ways, then you should bring your vehicle into the service department at Elgin Hyundai so we can give you a better understanding of your vehicle's oil change frequency:
Commercial use
Off-roading
Heavy towing
Racing

More Oil Change Tips
Before you come in from Streamwood or Schaumburg to visit our Elgin service center, take note of these additional oil change tips. For more information, you can always contact us.
Even if you don't use your car very much, it's still important to get an oil change at least twice every year. Even without being used, oil does break down over time.
Does your car use conventional or synthetic oil? Well, to make sure, you should check your owner's manual. While synthetic oil will cost more, it is required on some vehicles. One benefit is that it typically lasts longer.
When you get your oil changed, the oil filter should also be replaced. In case you're going to do the change yourself, then you can come to get all the equipment you need at our parts center.
How Often Should I Check My Oil Level?
It is important to check your car's oil level at least once a month, just to make sure that there aren't any leaks in your system. If there is a leak, your vehicle can become badly damaged. So, make sure you check for leaks, but also to be sure that your car's oil color is right. If the color is too dark, or if you see visible metal particles within the oil, then you'll need an oil change. If this is the case for you, schedule a service appointment with us as soon as possible!
Get Your Vehicle Serviced at Elgin Hyundai
Think your vehicle needs its oil changed? If so, you can always visit the service center at Elgin Hyundai and get your vehicle worked on by our experts! You can also take a look at our other service tips to see what color your brake fluid should be or how to change a flat tire! Take a look at our available service deals, and schedule a service appointment with us. While you're here, view our entire lineup of new and used vehicles!
We offer low prices on oil changes as well as service coupons for many of our most popular maintenance and repair tasks. Contact us with any questions today!