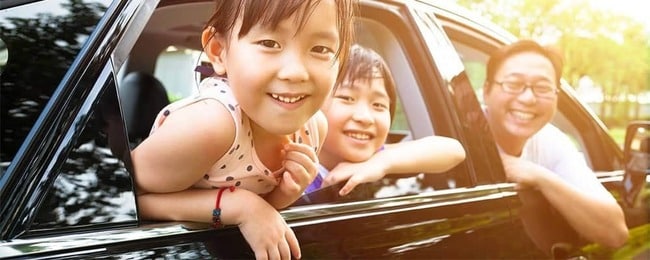 a successful adventure
? Read on to find out!
Plan a Road Trip
A little planning can go a long way when traveling, so it's important to stay ahead of the curve by following a checklist:
Cell Phone Service: From 3D maps to video chat, today's smartphone technology can get you out of a multitude of jams on the road. Be sure to pack a charger and power bank, and ask your provider about roaming fees and country-wide coverage.
Vehicle Health: How long has it been since your last tune-up? While you can check the wipers and fluid levels yourself, it may be worth the peace of mind to get your car checked by experts before you head out.
Emergency Kit: Whether you DIY it or buy a pre-made kit, a good emergency kit is always a great addition in the trunk. Look for items like flares, first-aid kit, tire iron, and more.
Spare Tire: Take a look at your spare tire to make sure it's still in good condition, which means proper air pressure and good tread.
Traveling by Car with Kids
What if you have little ones along for the ride? How do you fight boredom? Distraction is key. Pack a bag with activity books and music, along with their favorite snacks and beverages. But you can also have fun as a family with interactive games on the go. Try playing the License Plate Game, where each player gets points for spotting plates from different states. Parents can also plan a game of bingo or scavenger hunt by giving each child a list of items to look for, like brown cows or grain silos.
Road Trip Ideas for Hungry Travelers
A well-stocked cooler can make traveling by car much more enjoyable. Here are some of our favorite road trip tips for a full stomach on the road:
Beverages: Freeze bottles of water and place in a cooler with juice and sodas.
Trail Mix: This sweet and salty blend satiates the appetite without weighing you down.
Veggies: Vegetables like carrots, celery, bell pepper, and tomatoes are easy to eat on the go without making a mess.
Hard-boiled Eggs: These protein-packed snacks are easy to store in the cooler. Peel them in advance for convenience!